Hello everyone!

It's a long time that I eagerly follow and enjoy press photos in various media and news agencies. Photojournalism and documentary photography were always along my favourite categories in photography. So many breathtaking images are captured by amazing photojournalists around the globe every day. Some are in a war zone or human conflict, and some in a public event, social gathering, politics or simply every-day life. I personally exclude paparazzi and celebrity photography from this style since I don't perceive any sort of art in that type of work but bothering people!! Anyways…I would like to share some of my favourites from various photojournalists based on different perspectives (angle, timing, human conflict… ) with you. Today, we'll have a look at some photos which illustrate the best of "angle". The name of news agency and photographer are followed by the picture:
REUTERS/ David Moir
One of the best shots I've ever seen. The picture received 1st Prize as The Art of Entertainment, shows dancers from the Nederlands Dans Theater take part in a dress rehearsals for their forthcoming Edinburgh International Festival performances at the Edinburgh Playhouse,Scotland. Amazing angle came with wonderful color composition.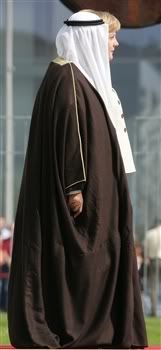 REUTERS/Tobias Schwarz
Look at this angle! How could it be better?! Got 3rd Prize of Georges Bendrihem Prize. German Chancellor Angela Merkel and Kuwait's Prime Minister Sheikh Nasser al-Mohammad al-Sabah listen to the national anthems during a welcome ceremony in Berlin.
AFP/Roberto Schmidt
Oliver, an eleven-year-old boy, looks from behind men forming a security barrier during the funeral of Kenyan Member of Parliament Mugabe M. Were, in his home town of Port Victoria in Kenya's Western province. The focus on little boy with blur image of PM made this shot unique!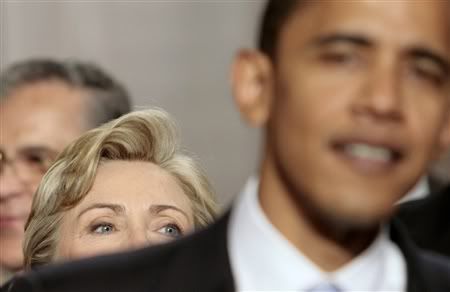 REUTERS/Larry Downing
The US election fever is rising! Barack Obama stands in front of Hillary Clinton as they arrive for George W. Bush's annual State of the Union speech to a joint session of Congress at the U.S. Capitol in Washington January 23, 2007. Great angle, isn't it?!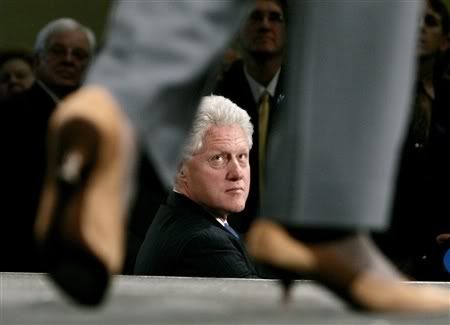 REUTERS/Jim Young cription
Former U.S. President Bill Clinton listens to his wife, presidential candidate Hillary Clinton, speak at a campaign fund-raiser in Washington March 20, 2007.
REUTERS/Morteza Nikoubazl
A woman prays as she attends a ceremony to mark the anniversary of the Islamic Revolution at the tomb of Ayatollah Khomeini, Iran's late leader, in southern Tehran, Iran, February 1, 2008. Wonderful capture with special consideration on both lighting and angle.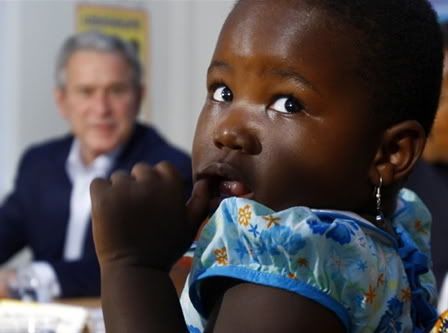 REUTERS/Jim Young
Three-year-old Faith Mang'ehe, whose mother is HIV-positive, attends a roundtable session with her mother on the President's Emergency Plan for AIDS Relief with Bush at Amana District Hospital care and treatment clinic in Dar es Salaam, Tanzania, February 17, 2008. So touching image! Obviously not because of Bush!!

, but for the excellent composition and smart focus.
REUTERS/Pepe Marin
Spanish matador prepares to perform a pass to a bull during a bullfight in Coliseo de Atarfe bullring in Atarfe, near Granada, Spain, February 28, 2008. Photographer did an outstanding job on angle standpoint! I mean look at that!!
REUTERS/Bobby Yip
Preparing to serve during the men's preliminaries of the World Team Table Tennis Championships in Guangzhou February 25, 2008. Magnificent job by the photographer in terms of both angle and timing!
REUTERS/John Gress
Republican presidential candidate and former Arkansas Governor Mike Huckabee, as seen through a window under an exit sign, campaigns in Appleton, Wisconsin February 18, 2008. All its concept comes out of its amazing angle!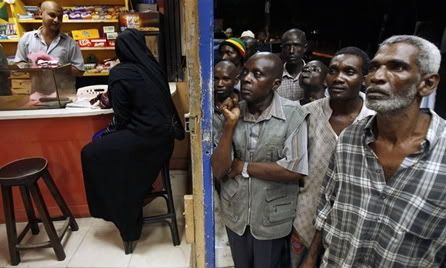 REUTERS/Mike Hutchings
Kenyans watch a live broadcast as legislators elect a new speaker for the country's parliament Mombasa, January 15, 2008. Look at that irony between two sides of the wall!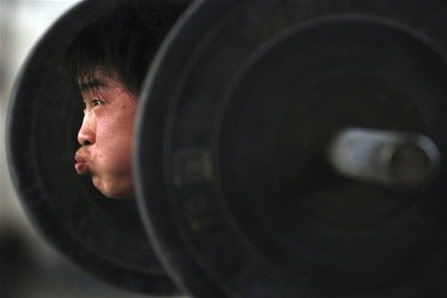 REUTERS/Stringer
A student practises weight-lifting at a physical education school in Changzhi, Shanxi province January 9, 2008.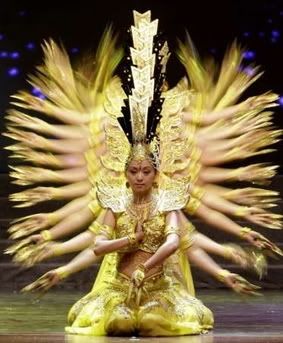 REUTERS/Jason Lee
20 deaf dancers in performing "Thousand-hand Avalokitesvara Bodhisattva", or "Guan Yin", a Chinese goddess, in Beijing February 19, 2008. Feeling music through speakers and guided by hand gestures, a troupe of deaf dancers in Beijing take steps to champion the rights of disabled people across the world.